Drömmen om Amerika uppfylld
Från Obamas tal:
" If there is anyone out there who still doubts that America is a place where all things are possible, who still wonders if the dream of our founders is alive in our time, who still questions the power of our democracy, tonight is your answer.
It's the answer told by lines that stretched around schools and churches in numbers this nation has never seen, by people who waited three hours and four hours, many for the first time in their lives, because they believed that this time must be different, that their voices could be that difference.
It's the answer spoken by young and old, rich and poor, Democrat and Republican, black, white, Hispanic, Asian, Native American, gay, straight, disabled and not disabled. Americans who sent a message to the world that we have never been just a collection of individuals or a collection of red states and blue states.
We are, and always will be, the United States of America."
[…]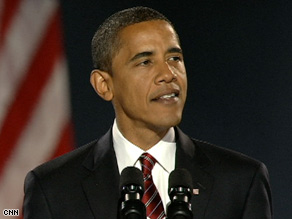 "To those — to those who would tear the world down: We will defeat you. To those who seek peace and security: We support you. And to all those who have wondered if America's beacon still burns as bright: Tonight we proved once more that the true strength of our nation comes not from the might of our arms or the scale of our wealth, but from the enduring power of our ideals: democracy, liberty, opportunity and unyielding hope."
[…]
"This is our time, to put our people back to work and open doors of opportunity for our kids; to restore prosperity and promote the cause of peace; to reclaim the American dream and reaffirm that fundamental truth, that, out of many, we are one; that while we breathe, we hope. And where we are met with cynicism and doubts and those who tell us that we can't, we will respond with that timeless creed that sums up the spirit of a people: Yes, we can.
Thank you. God bless you. And may God bless the United States of America."
Publicerad: 5 November, 2008 i Obama, Politik.
Etiketter: Obama, Politik
Skriv en kommentar